As part of Europhysiology 2018 meeting in London (https://www.europhysiology2018.org/ 14-16th September 2018), the Vascular Special Interest Groups within the Scandinavian Physiological Society and the Deutsche Physiologische Gesellschaft will host a Vascular Satellite Meeting on 13th September 2018 at the QEII Centre in the heart of Westminster, London. The program can be found  here: Satelite meeting Vascular SIG – program
The Special Interest Group (SIG) within Vascular Physiology integrates more than 30 individual participating laboratories from 12 Universities in Denmark, Sweden, Norway and Finland. This network involves both clinical and experimental research laboratories in the area of Vascular Physiology. Vascular Physiology historically belongs to one of the most significant specialties within physiological sciences in Scandinavian countries and is nowadays a topic for intense high-profile research in a number of Scandinavian research laboratories and universities. The research area spans from studies of the role of membrane transport in vascular cell function to involvement for vascular structure and function in different pathologies. The major focuses are:
1)    membrane transport in endothelial and smooth muscle cells
2)    the regulation of contractile function of smooth muscle
3)    endothelial control of vascular tone
4)    structure and function of small and large arteries
5)    vascular structural changes in association with different pathologies and aging
6)    vascular functional changes in association with pathologies, e.g. hypertension, pulmonary hypertension, cardiac diseases, diabetes and aging
7)    genetic and molecular background for vascular abnormalities
8)    redox signaling in the vascular wall
9)    rhythmicity in the vascular wall
10) co-morbidity of vascular dysfunction and other pathologies.
The purpose of a SIG within Vascular Physiology is to stimulate the scientific interaction between different research groups and promote vascular research in Scandinavia.
The steering committee of the SIG includes
Vladimir V. Matchkov, Aarhus University
Pernille B. Lærkegaard Hansen, University of Southern Denmark
Charlotte Mehlin Sørensen, University of Copenhagen
Karl Swärd, Lund University
Holger Nilsson, University of Gothenburg
The activity of the suggested SIG is dedicated to organizing symposia and satellite meetings in association with the Scandinavian Physiological Society meeting. The SIG attempts to attract maximal attention to these scientific events within and outside the society.
If you are interested in joining this special Interest Group, please contact Vladimir Matchkov. In order to join a SIG, you must be a member of the SPS. Here are the instructions on how to do this.
The founding meeting of Special Interest Group in Vascular Physiology
The Special Interest Group in Vascular Physiology recently held its first meeting at the University of Copenhagen 28th of January 2015, with support from the Scandinavian Physiological Society. This meeting was thought of as a start-up meeting of this Special Interest Group, where the majority of vascular research groups working in Nordic Countries presented their activities and expertise.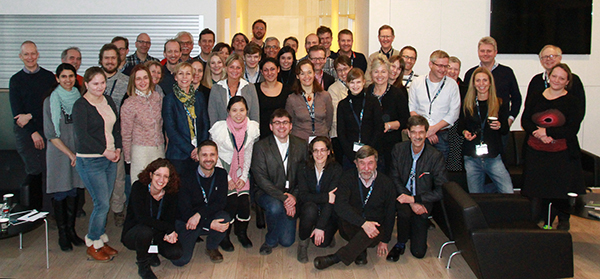 (Photo: Elena Bouzinova)
There were more than 50 participants at the meeting, among them principle investigators, research fellows and students. An intensive one day program began with opening lecture on the history of Vascular Physiology in Scandinavia given by Prof. Christian Aalkjaer. This was followed by 24 ten-minute presentations of activities and expertise given by principle investigators from Denmark, Sweden and Finland. The activities of the Danish Cardiovascular Research Academy and the Danish Hypertension Society were presented by Associate Professor Morten Schak Nielsen and Professor Boye L. Jensen, respectively. The start-up meeting was completed by a discussion of strategy for the Special Interest Group within Vascular Physiology. The meeting, supported with enthusiasm by the participants, was very successful and will ensure a future dynamic development of the Special Interest Group, as well as interaction and collaboration between vascular physiologists in Nordic Countries.
Here you can read the Program (pdf) from the meeting and the Strategy plan (pdf) for the SIG.
Planned activities:
The Vascular Physiology SIG will support the SPS satellite meeting EDH 2015 (www.sdu.dk/edh2015).
The Vascular Physiology SIG will be a part of the Copenhagen Vascular Meeting 2016.